About Weise Choice Tree Services, LLC
In business since 2006, Weise Choice Tree Services, LLC has the experience needed to properly care for your property's trees and shrubs, removing any hazards and making your vision a reality. We always stay on the leading edge of our field, whether it's learning and utilizing the most innovative climbing techniques, wearing radio helmets to improve crew communication and efficiencies, or using the most effective treatments to ensure a healthy landscape. We are actively committed to continuing education in our field to provide positive results for our customers.
Each of our professionals is highly skilled, neat, and courteous. We operate only clean and insured equipment and assure that your property will look better when we leave than when we arrived. We always strive to not only meet but also exceed your expectations, and we want you to feel comfortable in expressing any questions or concerns. If you are looking for professional tree care services combined with exceptional customer service, you have come to the right place!
Affiliations & Accreditations
Recent Testimonials
"Your team did a great job!"

Neil R. of Weston, CT

"Thank you so much for the terrific job of removing those awful white pines."

C. & A. of Bethel, CT

Mary D. of Trumbull, CT
About the Owner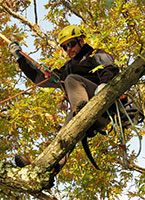 Daniel Weise
Owner
Daniel J. Weise is the founder, manager, and owner of Weise Choice Tree Services, LLC and a fifteen-year veteran of the arboricultural industry. As an experienced tree climber and Connecticut licensed arborist, Dan embraces the highest standards of safety and quality. Dan has performed at the highest levels in many professional tree climbing competitions. In 2009 he achieved his highest ranking from the International Society of Arboriculture (ISA), placing 17th among the world's top competitors at the ISA's invitation-only International Tree Climbing Competition. Dan most recently competed on the International level in 2011 in Sydney, Australia. Since he began competing in 2005, he has been ranked three times as the top tree climber in Connecticut by the Connecticut Tree Protective Association, Inc. and three times as the top Regional tree climber by the New England Chapter of the ISA. Along with exercising his skills in climbing, Dan enjoys caring for trees while developing long lasting relationships with his clients.
Our History
Dan's internationally recognized expertise as a tree climber has helped expand his industry in several ways. He started the business doing solely subcontracting. Over time the company grew, and as he helped more and more customers, he felt able to advise two other tree climbers in starting their own subcontracting businesses. Dan eventually expanded his business to mostly contracting. He is honored to have been a source of inspiration for others in the field, helping to bring quality tree care to as many people as possible.
Our Mission
Here at Weise Choice Tree Services, LLC, our mission is to provide expert tree services with attention to the environment and being "green." We also care deeply about our customers and want to ensure their complete satisfaction at every turn. We look forward to utilizing all of our skills to carry out the best job possible.
Looking for a price? Get a no cost, no obligation free estimate.