Brush Removal and Clearing in Western Connecticut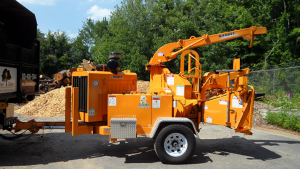 One of our two woodchippers - we can select the right size for the job to achieve the most efficient brush removal.
We can clear any amount of brush with our quality equipment
We offer brush removal and clearing as an additional service only.
For brush removal & clearing, we have two different-sized wood chippers, brush-moving equipment, and two chip trucks to haul it away. With this fleet of equipment the arborists at Weise Choice Tree Services, LLC can pick the perfect combination to complete the job, while causing the lowest impact on your property.
Weise Choice Tree Services, LLC completes safe brush removal and can offer you a wide range of other general tree care services. Brush clearing that is done neatly can make all the difference in any property. Arborists at Weise Choice Tree Services, LLC can provide a worry-free job done at the right price and the right time.
Contact us today for Free Estimates on brush removal in Woodbury, Waterbury, Southbury and even Monroe, Danbury, Waterbury, Wolcott, Cheshire, Newtown, Shelton.
Looking for a price? Get a no cost, no obligation free estimate.