Hedge Trimming & Pruning Contractor in Western Connecticut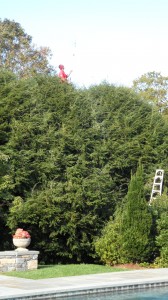 Hedge trimming is healthy.
Keep your hedges healthy with our trimming and pruning services throughout Connecticut
Oftentimes people want their hedges to look great but pay no mind to the fact that a hedge is a living plant that needs to grow. If sheared to the same size year after year, the plant becomes weaker and less attractive. Through our experience with hedge trimming and pruning, we have developed techniques to maintain hedge sizes while still allowing the plants to grow. If this sounds impossible, call to schedule an appointment and we will explain our plan to you.
Weise Choice Tree Services, LLC is a certified tree service company that can help you with plant and tree services of any kind. We service areas throughout Connecticut including: Waterbury, Woodbury, Southbury and Waterbury, Danbury, Monroe, Shelton, Wolcott, Cheshire, Newtown. Contact us today for a Free Estimate on any of our hedge trimming and pruning services or tree shrub and pruning benefits.
Looking for a price? Get a no cost, no obligation free estimate.