Trusted Care for Shrubs & Trees in Woodbury, Waterbury, Southbury
Keep your yard & garden beautiful with fertilizing, pest control, pruning & other plant health services from Weise Choice Tree Services, LLC in Western Connecticut
You've worked hard to beautify your property with a variety of trees, shrubs, hedges and other plants. Now the challenge is to keep your property beautiful by controlling pests, repairing damage and avoiding plant diseases and problems that can cause damage.
Expert diagnosis and treatment of plant problems in Connecticut
The trees and shrubs in your yard & garden can be damaged in many ways. Structural damage can be caused by hail, high winds, ice storms, animals and rambunctious children. Biological harm can be caused by pests and common plant diseases. With expert services from Weise Choice Tree Services, LLC, you can preserve and enhance the health & beauty of your trees and shrubs with appropriate care and repair services.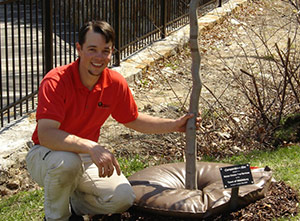 Count on complete plant care services from Weise Choice Tree Services, LLC in CT
Fertilizing to improve plant health
Plant pest & disease management
Pruning & trimming trees and shrubs
Root pruning
Property evaluation & planting recommendations
Mature tree preservation in Waterbury, Danbury & across Western Connecticut
The Plant Health Care plan we can design for you will consider the size and age of your trees. Large trees should be cared for differently from small trees. Older trees are scientifically more complex and dynamic, and their care should reflect that. We can work with you to develop a plan to improve a Mature Tree's biological functions, increase the tree's structural stability, and reduce its risk to your property.
If you are interested in a free quote on our expert tree and plant care services, contact us today! Our expert tree and plant services are available throughout the Western Connecticut area and surrounding areas such as Waterbury, Woodbury, Southbury and Danbury, Waterbury, Shelton, Monroe, Cheshire, Newtown, Wolcott.
Fruit tree and orchard maintenance in Connecticut
We can deliver the Total Package for your home orchard! We will start with winter pruning to improve the health, structure and fruit production of your trees. In the Springtime we will follow up with spraying to control insect and fungal damage to your trees and their early fruit. In the Spring or Fall we can also inject the soil surrounding your trees with Bio-Stimulant to improve the overall vigor of your trees and their roots. A healthy root system makes for a healthy tree. Or, we can work with you to tailor our program to best suit your needs and the needs of your trees.
Before and After
Before

After

This client called in very concerned about their Hemlocks set along the driveway. We determined that they were infected with Hemlock Wooly Adelgid and Elongate Hemlock Scale and were able to treat accordingly. They came back absolutely beautiful. The client was very impressed with our knowledge of plant health care and was extremely happy with the results we were able to provide.

Before

After

This is a look under the bark of an ash tree. The before picture is of an unaffected tree. The after picture shows you what the damage to the Ash's tissue looks like after the EAB larva has fed. Remember, this can only be seen after the bark is removed. These pieces were samples used to identify where the Emerarld Ash Borer infestation was geographically.

Before

After

A client was concerned with the health of a particular Ash tree in her yard near the driveway. We determined that the first step to take would be to use a tool called a AirSpade to get the ground around the roots less compact and to remove the excess dirt about 10-12 inches down away from the root flare of the tree.
Insect and disease control in Western Connecticut
Armed with experience from years of working in the field, we can diagnose and help stop plant disease and pest invasion before it's too late. Oftentimes it is hard to tell if a tree is suffering insect and disease damage until the tree looks visually poor. By the time a tree shows obvious signs of damage, it may be too late for the tree to make an easy recovery. We know what to look for and when and how to treat for it to ensure the best results with the least amount of damage to the surrounding environment. Some common pests and diseases we treat for are:
Hemlock Wooley Adelgid on Eastern Hemlock
Bronze Birch Borer on White Birch, European Birch and sometimes Gray, Yellow or Paper Bark Birch
Emerald Ash Borer on Green and White Ash
Cedar Apple Rust and Apple Scale on Apple Trees
Spruce Needle Rust and Rhizosphaera Needle Cast on Spruce Trees
Direct trunk injections in Woodbury, Waterbury, Southbury
We can also use direct trunk injections as an alternative to spraying, soil injections, or a soil drench to control insect and disease problems. We prefer this method to treat trees around lakes, streams and other water sources; near neighboring properties where property lines may be crossed accidentally; or in trees too tall to spray. We also use tree injection for emerald ash borer treatment in particular.
Fertilizing in Monroe, Shelton, Newtown & Surrounding Areas Across CT
Unlike some other companies', we work to make your trees and shrubs healthy now and in the long term, not just make them "look" good for short gains. Our goal is to supply the tree or shrub with the basic building blocks it needs right now which will also help it strengthen its root system so it can more efficiently collect those critical nutrients and micro-nutrients in the future. We can determine what your trees may need by performing a soil test when necessary. Using the results of this test, we can inject low nitrogen fertilizer and Bio-Stimulant in the root zone, which should increase the tree's resistance to temperature and drought stress, improve its root mass, improve its leaf color, better its fruit production and yield, and improve water and nutrient absorption.
What is Bio-Stimulant?
The Bio-Stimulant that we use is a water-soluble powered product containing a combination of minerals, beneficial fungi, and organic materials such as yucca plant extracts which, when applied to trees and plants, promotes strong root growth and improves overall vigor. We mix this powder with water and apply it to trees and plants either as a soil drench or soil injection. The treatment is done as part of an ongoing Plant Health Care preventative maintenance plan.
Root zone improvements in CT
A plant's root zone is a critical area often overlooked. If you think about the fact that every part of the plant you see came from the industrious work of the root system, it only makes sense that improving the soil under your tree or shrub will improve plant health over time. Our root evaluation and pruning services can help tame the roots on any plant or tree.
Plants (especially large trees) can suffer for a long period and then decline if there is soil compaction in their root zone. Soil can become compacted over time by vehicle traffic, lawnmower traffic, or even foot traffic. This can be remedied by breaking up the tough ground with the use of a compressed air tool known as an Air Spade and then adding decomposed organic materials into the soil. Once complete, the root zone can be much more like the conditions found naturally in the forest soil.
Weise Choice Tree Services, LLC can help your trees & shrubs in Western Connecticut today!
Are your trees & shrubs as healthy as they should be? Are plants at risk because of pests, diseases or poor nourishment? Rather than worry about your property, why not call Weise Choice Tree Services, LLC for an expert assessment? We can treat the tree and shrub damage that you've spotted, and identify other issues that deserve attention. Let us give your plants and your property the care they deserve, contact us for a Free Estimate.
Looking for a price? Get a no cost, no obligation free estimate.