Emerald Ash Borer Treatment & Control in Western Connecticut
Ash tree care and removal in Waterbury, Woodbury & nearby
Emerald ash borer (EAB) has become a growing problem in Connecticut, especially in New Haven County. The EAB feeds on ash trees and is responsible for killing tens of millions of trees across the country. The good news is there are emerald ash borer treatment and control options.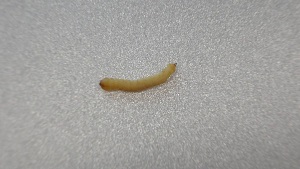 This is an emerald ash borer larvae and is what causes damage to ash trees.
It's important that you don't wait until your trees are dying. Weakened branches from a dead tree can fall and damage your home or property. A dead tree is also more likely to fall over, posing a dangerous risk to your family and your property.
If you have ash trees on your property, contact Weise Choice Tree Services, LLC to have your trees inspected. Our licensed arborists can determine whether or not EAB is affecting your ash trees and suggest the best ash borer treatment option. Call us or click below to schedule your free inspection and estimate today!
What is emerald ash borer and why is it a problem?
The first emerald ash borer to be found in Connecticut was in July 2012. The EAB is an invasive beetle, belonging to a larger family of buprestids or, metallic wood boring beetles. An adult EAB begins emerging from within an ash tree around mid-June. Within just two weeks, the female lays her eggs on the bark of the ash tree. After 7 to 10 days, the eggs hatch and the larvae move into the bark and begin feeding on the phloem, or inner bark, and cambium of the tree. This feeding continues throughout each growth stage of the larvae. Adult ash borers feed on the leaves of the tree. It's estimated that trees will typically die within 3-5 years after becoming infested.
Movement of infested trees, such as taking firewood for camping and removing dead trees from yards has caused EAB to spread quickly. The ash tree population in Connecticut had already been declining for several decades. Now that EAB is a problem in the state, there's a concern that the population will be reduced so dramatically that it might not be able to recover.
Emerald ash borer larvae feeding tunnel in an ash tree limb.
Signs and symptoms of EAB
There are some common signs to look for to help determine whether EAB is attacking your ash trees:
Thinning of the tree's upper canopy
Bark splitting
D-shaped exit hole in the bark
Shoots growing from roots or the tree's trunk
S-shaped feeding tunnels underneath the bark
Woodpecker activity
If you're not sure what kinds of trees you have, we can take a look and identify them for you.
What should you do about emerald ash borer?
There are a few ways Connecticut homeowners can help with emerald ash borer control:
Pay attention to ash trees that are on your property or in your neighborhood.
Report any ash trees that are declining and might pose a danger to people or structures.
Follow quarantine guidelines which restrict the transport of firewood without a certificate. Firewood from out-of-state also cannot be brought into Connecticut unless it's been heat-treated or a special permit has been obtained.
Our EAB treatment process
We treat ash trees for emerald ash borer using the industry-leading systemic insecticide injection treatment system from Arborjet. Trunk injection is proven to be the most effective method for preventing EAB from attacking a tree, and it can stop damage even if the tree is already under attack. The insecticide is injected directly into the tree, so you don't have to worry about it harming your family, neighbors or the environment.
If you have a lot of ash trees on your property, you should consider developing an emerald ash borer management plan that could include treatment, removal or a combination of both to reduce the potential of having to remove all of your ash trees at the same time.
Get a free estimate for EAB treatment in CT
Contact Weise Choice Tree Services, LLC to have our professional arborists come and assess your ash trees for EAB. We are your experts for EAB inspections and treatment, as well as a wide range of tree removal and plant health care services in Waterbury, Woodbury, Southbury and nearby.
Looking for a price? Get a no cost, no obligation free estimate.