Tree & Shrub Fertilizing in Western Connecticut
You fertilize your house plants and gardens, why not your trees and shrubs?
Why Fertilize?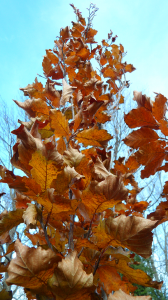 Fertilizer keeps your plants healthy and strong.
Trees and shrubs require many elements to grow. Elements that are required in higher quantities are called macronutrients, micronutrients are elements that are important but are used by the tree or shrub in smaller amounts. Nitrogen, a macronutrient, is the element that trees and shrubs need the most. Usually this element is replenished by the breakdown of organic matter on the forest floor, such as leaves. The removal of leaves from the ground under a tree can take 1 to 3 pounds of nitrogen per 1,000 square feet from the annual cycle.
Any tree growing in a lawn or garden setting is growing in a foreign environment. Trees and shrubs rely on the nitrogen in the soil to be replaced annually, which can be achieved by fertilizing.
Sometimes a tree or shrub may have difficulty extracting the elements they need from the surrounding soil, due to an undesirable soil pH. When the pH of a soil to too high or low, some elements can bond to the soil and become less available to flow into the tree with the movement of water. To determine this, a soil pH test is necessary and when a undesirable pH is discovered, steps can be taken to amend the soil.
When and How?
Trees and shrub should be fertilized in the spring or fall, or when planted. Fertilizer uptake is dependent on the occurrence of root growth. Slow or fast release fertilizers should be chosen to correspond to the root growth rate.
Most trees and shrubs respond best to the soil injection method using liquid fertilizer under pressure. This practice delivers the fertilizer directly to the tree and shrubs' feeder roots located from 4 to 8 inches below ground. This method also bypasses the grasses roots, ensuring full availability of the fertilizer to the intended plant.
In cases of extreme nutrient deficiency and or damaged root systems, a trunk injection method may be desired. This involves drilling a series of small, clean holes around the flare or the tree where the roots and trunk join. Then a nutrient solution can be directly applied to the tree or shrub resulting in an immediate solution to the deficiency in the short term. This is not a long term solution to the problem though, as it does not apply any elements to the soil, or help to amend it.
To achieve the full potential of your plant health care, fertilizing should be seriously considered. Along with a more beautiful appearance, your trees and shrubs will also be more pest and disease resistant due to a increased level of health. The benefits of fertilizing come in many forms, see how they can help your trees and shrubs today! Contact us for a Free Estimate so we can visit your home in Waterbury, Woodbury, Southbury, Waterbury, Danbury, Monroe, Shelton, Wolcott, Cheshire, Newtown and more. Weise Choice Tree Services, LLC is Connecticut's most trusted tree experts.
Looking for a price? Get a no cost, no obligation free estimate.