Tree Root Evaluation and Pruning Company located in Western Connecticut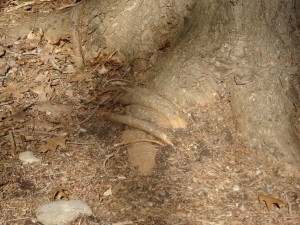 A tree begins at its roots.
We can evaluate and solve root problems
When a tree shows signs of trouble, often the most important answers lie right beneath our feet. The root system on a tree makes up almost half of the total mass. Often by excavating soil around tree's root flare, several common problems can quickly be discovered; and if possible, addressed. If you have young trees, evaluating the root systems and addressing problems early can save money and time down the road.
Weise Choice Tree Services LLC excavates and evaluates tree and shrub root systems with either hand tools or a high pressure air spade. Upon inspection, soil is returned to the root system when everything appears healthy, or structural problems are dealt with at the customer's discretion. Problem roots may be pruned away to allow for better growth and sap movement. Whenever a root must be cut due to construction or for other reasons, properly pruning it leads to a more healthy and decay resistant root. This simple practice leads to healthier trees in the future.
Contact Weise Choice Tree Services, LLC today for a free tree service estimate including tree root evaluation and expert pruning. Tree & plant health care services are available throughout Western Connecticut including Southbury, Woodbury, Waterbury and other surrounding towns and cities.
Looking for a price? Get a no cost, no obligation free estimate.