Safely remove unnecessary tree limbs in areas throughout Connecticut
Aerial lift devices can help our technicians reach limbs of high elevations in CT. We can safely remove tree branches high up to promote the health and safety of that tree.
What is pruning?
Pruning a tree or shrub consists of the planned removal of hangers, widowmakers, or limbs. Where and how these limbs are cut depends on the objective of the pruning. Some pruning objectives include; pruning for clearance over roads, driveways, buildings and power lines; pruning to reduce shade and wind resistance; pruning to maintain health and improve fruit and flower production; pruning to improve a view or to improve the overall look of the tree or shrub.
How is pruning in Connecticut done?
Pruning of shorter trees and shrubs can be done from the ground or from a ladder. Taller trees need to be pruned by a climber or an operator of an aerial lift device. When pruning a tree or shrub to obtain an objective, four major types of cuts may be used. Cleaning cuts remove dead limbs from the tree or shrub to promote health and improve the safety of people and things below. Raising cuts are usually made on the trunk of the plant to increase the height of the canopy. Reduction cuts may be used to reduce the height or length of a limb and thinning cuts are used to correct growth patters in the plant it is applied to.
Before and After
Before

After

This was the second year we pruned this clients privet hedges along the property line. We utilized a level line to maintain straight and level lines that did not follow the grade of the lawn throughout the property.

Before

After

Our client called us concerned about the size and shape of the trees in the front of the home. Upon inspection, we determined the best course of action was to prune the trees and perform a weight reduction. Upon completion, our client was very happy that we were able to obtain the size and shape they were looking for!

Before

After

Believe it or not, these are the same apple trees. The winter photo was taken during pruning, while the summer photo was taken after the trees were pruned and then grew leaves.

Before

After

A Red Maple (or Swamp Maple) before and after we completed thinning pruning. This type of pruning improves the tree's health by allowing more structurally sound limbs to develop and by eliminating excess weight. The tree now has better air flow through its canopy, which will help reduce the impact of fungal diseases. There is also a decreased chance of limbs rubbing together which would cause damage to the limbs.

Before

After

This Senior living community had many trees that posed a problem for the safety of the tenants and staff. We were able to prune the limbs and branches that were too low to the ground or had a dangerous shape. The property is much safer now.
If you have trees or shrubs in need of pruning, we can help! Click here for a Free Estimate on our tree services. We offer our pruning services throughout Western Connecticut including: Litchfield, Woodbury, Newtown, Cheshire, Shelton, Southbury.
When & why you should consider pruning your trees and shrubs in Waterbury, Woodbury, Southbury & across Western Connecticut
Pruning can be done at anytime of the year. Different types of pruning should be done during different seasons. Removing dead limbs or making 'cleaning cuts' is fine to do anytime. The removal of many live limbs depletes the resources of the tree or shrub the least in the winter, which is why fruit trees that are usually pruned drastically, are pruned after the leaves fall from the trees. The pruning of flowering plants needs to be timed with the specific plant to ensure proper blooming.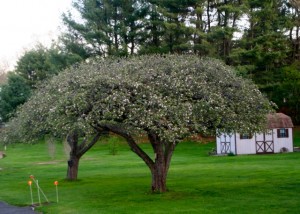 Tree & shrub pruning not only looks beautiful, but it also prolongs the life of the plant.
Trees should be pruned to maintain their health and safety. When a tree is pruned, not only are your objectives achieved, but a detailed inspection of the tree is conducted by the climber to ensure it's structural strength. Any defects are brought to your attention along with suggestions for intervention.
Shrubs should be pruned to maintain their size and overall appearance. Cuts on shrubs should be made with as much care as you would a tree, as they respond to poor pruning in the same way as a tree. Improper pruning of a tree or shrub can be damaging and may lead to hazards or the decline of that plant.
Weise Choice Tree Services LLC has trained arborists who specialize in pruning and tree health care. Contact us today for a Free Estimate in any of our tree services! We service all of the Western Connecticut area including: New Haven, Waterbury Lichfield, Woodbury Newtown, Cheshire, Shelton, Southbury.