Affordable Tree & Shrub Removal in Waterbury, Woodbury, Southbury
We perform removals in Connecticut safely and at the right cost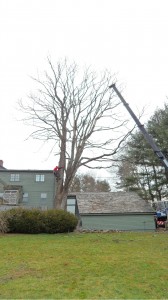 Tree removal in CT using a crane.
Why Choose Weise Choice Tree Services, LLC in Western Connecticut?
Weise Choice Tree Services, LLC is very experienced at tree and shrub removal, both large and small. We can work within your budget to accomplish your goals by varying our impact on your surrounding landscape.
We have highly experienced climbers and a 70 foot off road lift ready to tackle the most challenging jobs. From using cranes to disassemble the largest and most hazardous trees to implementing zip-line technologies to remove trees in the tightest and most fragile of areas (i.e. over pools, greenhouses and perfected gardens).
We have helped hundreds of your neighbors in Litchfield, Woodbury, Newtown, Cheshire, Shelton, Southbury, and nearby.
We come equipped with the right tools and machinery to accomplish the job. Stump grinding, brush chipping and large wood removal all services we provide in association with removals.
Weise Choice Tree Services, LLC can help you with all your tree service needs. We service all major cities in Western Connecticut including: Waterbury, Woodbury, Southbury and more! Call or email us today or simply fill out a Free Estimate form online to get more information about what general tree services we can offer you!
Looking for a price? Get a no cost, no obligation free estimate.